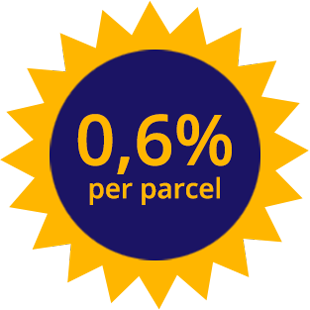 No need to request an insurance quote, our price is the same for everyone and for every destination.
Your parcel delivery can be insured for only 0,6% of its value, with a minimum of €1.5 per parcel. This rate applies to whatever goods you are sending.
Our insurance service promises a protection up to one euro, simply write down the exact value of your parcel when subscribing.
Proudly based in the Paris area in France, we currently charge in Euros only. If you wish to use another currency, you can simply convert at the closest value by using a currency converter such as XE.com.
We offer the fullest and most effective parcel insurance coverage on the market.
We cover a wide array of goods, even those considered "risky": high-tech, computers, watches, jewelry, luxury clothing, or vintage and collectible items.
Unlike with carriers, we will always refund the very last retail value of the insured item, even if the item is not brand new.
Secursus is a third party parcel insurance service, which means it cannot be combined with other insurance subscribed from a courier such as your local Post Office or Fedex.
However, if your carrier compensates part of the value of your parcel, our service will make up for the difference and transfer you the remaining amount.
Our goal is to offer you a parcel insurance service easy and ready to use as soon as you sign up.
Signing up is quick and allows you to secure your future parcel deliveries.
Payment is done on a case-by-case basis. Our service doesn't require prepaid credits, and no need to subscribe or commit to a number of parcels.
Therefore, it is open to everyone, whether you are an individual or a business.
For safety reasons, all your personal data is strictly confidential and we do not have access to your bank account information, which are secured by Stripe, our trusted partner dedicated to safe payment solutions.